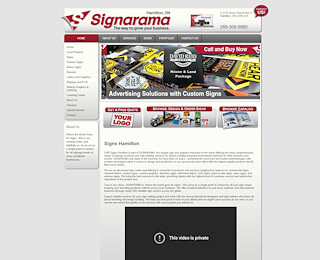 Retail signs in Hamilton can only become effective when produced with the highest-quality design techniques and printing technologies. This is why some of the most successful local businesses trust SAR Signs Hamilton with their signs, banners, and custom graphics. Go to our website to explore our list of services. Call us now to get help on creating the most effective promotional sign for your business.
Compared to buying newspaper and TV advertisements, putting up retail signs around Hamilton is way cheaper but just as effective (if not more effective) in advertising your brand or your store. A well positioned sign is seen by thousands of people daily. In fact, research shows that more than half of customers that come into a new shop are there because they saw the sign. More customers also stop on impulse when they see an interesting signage. Statistics also show that 35% of people don't even know a business exists if it doesn't have a highly visible sign out front.
One of the most important types of signage for a retail shop is the storefront sign. You might also need window displays and directional signs. A research conducted on the addition of two directional signs in retail shop showed an increase of over 8% in the sales—that's how effective signs can be.
If you are looking to create retail signs for your Hamilton business, contact SAR Signs Hamilton. We can accommodate any of your requirements, from different types of signs to a wide range of materials. If you have your own design, simply upload your artwork. If not, we can create it for you. Just fill up our online form to request a quotation. We also have a contact form here on our website if you have any inquiries for SAR Signs Hamilton.
retail signs Hamilton