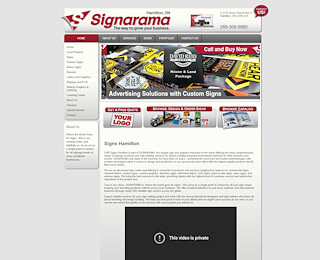 Let SAR Signs Hamilton fabricate the most noticeable sign for your building. We are part of the SIGNARAMA franchise, one of the best graphics and sign specialists in the country. You can count on for high-quality building signs in Hamilton. We can create a wide variety of signs using tried and tested methods and materials. Visit our website to explore examples of outdoor signs.
According to research, good quality and highly visible signage can increase profits. For example, in the fast food industry, it was found that a 9.3% increase is profit accompanies the addition of a monument sign. If you have your own building, putting up signs can also help you attract long-lasting tenants. It is best to get professional help for building signs in Hamilton.
There are many forms of building signs available. Here are some factors to consider when choosing:
•
Quality – This is a result of the materials used as well as the workmanship. Low-quality signs can easily fade or be broken due to time and the weather.
•
Style - Be sure to contact a sign printer that can offer a wide range of design options.
•
Price - Some signage will definitely be expensive, especially those that are more permanent (typically made of concrete or wood). Set a realistic budget.
For all of your signage needs—be it window signs, boards, letterings, vehicle wraps, or building signs in Hamilton—contact SAR Signs Hamilton. We are part of SIGNARAMA and we offer an extensive range of signage products. Whether you have your own design or you need a new logo, we can create it for you. Simply browse our website to get some inspiration for your own signage. If you have any inquiries, just fill up the contact form. You may also reach SAR Signs Hamilton at 289-309-9880.
building Signs Hamilton