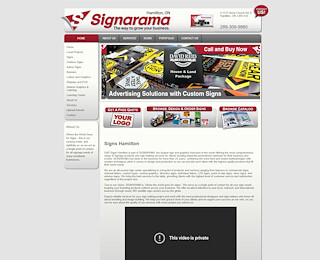 Do you need banners for your Hamilton business? Head to SAR Signs Hamilton now. We are the largest graphics and sign franchise in the area, with more than 25 years of being in the business as part of the SIGNARAMA franchise. This means you are letting experts create the best banners to promote your products and services effectively at a more affordable price. Check out our samples in our website.
If you have a small business in Hamilton, you can get more customers with proper signage. Why don't you announce your specials, promotions, grand opening, or sale events by hanging banners around Hamilton? This will allow you to directly engage with your target market—people who live around the area.
According to research, more customers are likely to visit a shop or restaurant when they see signs pointing to it. It's not surprising why. First of all, a sign signifies that there is a business in that area. It also shows that the business is up and running, and that customers are welcome. It's simply not enough to use the internet to promote your local shop. Nothing still beats an actual signage when it comes to increasing walk-in customers.
If you want to create professional looking banners for your Hamilton business, contact SAR Signs Hamilton. We are a full service sign center that can provide you with all your signage needs, be it banners or even neon lights. Our commitment is to help you make your business stand out. Just browse our online catalog or portfolio to see how we can help you. At SAR Signs Hamilton, we can do more than just print your signs—we can also design them for you. To request a free quote, please complete the contact form here on our website.
banners Hamilton
Signarama Hamilton
289-309-9880
5-1175 Stone Church Rd. E, Hamilton, ON L8W 2C6
View Larger Map
Related Posts
Many businesses trust SAR Signs Hamilton when it comes to banner printing, and you should, too. Being part of SIGNARAMA makes us the best banner printers in Hamilton. We have the necessary equipment, materials, and the experience to create high-quality signage and banners for your business. Visit our website to see samples.
We welcome your comments!